ABOUT EARTH BLOCK INTERNATIONAL
• Built with Nature • Designed for Health •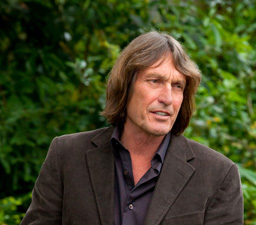 Jim has been building exclusively with compressed earth blocks (CEBs) since 1994. At that time, with 15 years in the construction industry, he was determined to find a healthier way to build for the sake of his chemically-sensitive wife, Nora, who was extremely reactive to conventional construction materials.
In the process of relocating to southwestern Colorado from their home in northern California, he attended a workshop showcasing a number of alternative building systems; but, when he saw a video demonstrating a hydraulic press machine pumping out 300 blocks per hour, he was immediately convinced that he had found not only an important answer to his wife's health issues, but also a method that would change his whole approach to his career as a builder.
He rented a machine, started the construction of their home and, in spite of the many challenges encountered along the way, has never looked back. Although he appreciates any approach that promotes a more sustainable way of building, he believes without a doubt that earth is by far the building material most healthy for the individuals residing in the home and for the planet…and that CEB construction is generally the most practical, accessible, and cost-effective building system available today.